"Choose a job you love, and you will never have to work a day in your life." — Confucius
My parents used to trick me to study by making a game out of the maths times tables, and giving sweets for each time I got it right – proud to say that was the moment in my life where I gained weight. It's crazy how time flies when you're doing something you enjoy, right? Have you ever found yourself staring at the clock during revision just wishing somehow you could press a fast-forward button that would allow you to wake up the day after your last exam? Stop your grey hairs coming early and do a job that you enjoy, rather than slaving away hours of your life doing a boring, tedious and torturous job. This decision is one of the BIGGEST you'll have to make in your lifetime – pick wisely and enjoy a life of happiness, satisfaction and prosperity.
Usually I only give one quote an article, but this one's on the house!
"Your time is limited, so don't waste it living someone else's life." — Steve Jobs
1. Plan Ahead
 Brainstorm what career aspects are important to you. For some it may be completely dependent on salary, others not so much. Ask yourself this question: If money was not an object, what job would you go for? Don't give any smart answers like 'I wouldn't work if money didn't exist'. Think about what is important to you. Do you seek variety? Do you want to be creative? Do you want to interact with people? There are many 'career tests' and I say this skeptically because they are only as good as the information provided, there are many limitations so please do not blindly follow these tests. However there are some free accurate ones out there which should allow you to explore more options and actually think about what is important for you in a job. I did one the other day and apparently I'm studying the wrong degree entirely and should be doing Geology instead… awkward. 
2. Self-Reflection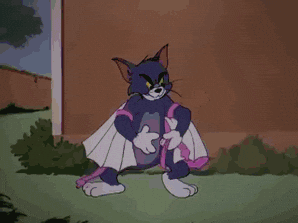 If it happens to be that Trading is the 'right' role for you, does that mean you are 'right' for Trading? You might like the fact that Trading is fast-paced, dynamic and challenging. However, if you know you are risk-averse, and cannot think on your feet – your characteristics are not suited for this profession. Bare with me now, I will explain why I used this GIF of Tom. In this episode of Tom & Jerry, Tom struggles to catch Jerry because Jerry is on a bird nest. Tom is well suited for his job (catching Jerry) because he is creative and determined to do so. Imagine if Tom had not made these wings to fly, not only would the series have ended 100 episodes before it did, but Jerry would never have to run from Tom again. Let's face it, Tom would have gotten the boot since no Jerry = no Tom. Moral of the story is: make sure your characteristics fit the characteristics needed for the job. List skills you are good at and you will be amazed to see how much simpler your decision will become.
3. Network With Those In Your Potential Profession
 After narrowing down your career choices to just a few, start attending networking sessions and talk to employees who are working in that particular field. Beware that they may be biased because the purpose of a networking event is essentially to raise interest and recruit so it's only natural for employees to miss out anything negative about the role. Even then, networking is still important because you get an insight into the culture of each company by their people, and if you ask many questions you might have enough detail to conclude whether that's your dream job!
4. Try It For Yourself
 Secondary research can only go so far. What people have said on the internet will be subjective – perhaps they didn't like it but you might have. The only way you can truly know is if you try it for yourself. Apply to spring weeks, insight days and internships so you gain first-hand experience and can make a more informed decision. Be sure to make the most of career fairs, so you are aware of most of the opportunities each company has to offer. You can't expect to wow the bulge bracket banks with nothing to show on your CV, build your CV with internships, voluntary work and even part-time work at start-up companies. The trickiest part is striking the right balance between academic commitments and applying for such opportunities. Time management is key, so buy a diary/calendar to help you make the most of your time. 
5. Repeat Steps 3 & 4 Till You Find Your Dream Job
 Try and try and at last you will succeed! You might be lucky enough to find your dream job on your first try. But how would you KNOW without a benchmark for comparison. With your list of desirable job attributes and your skill set, you will be able to narrow your choices down to a few. Then it is only a matter of process of elimination till you can be certain what career it is you want to go into. After each time you try a profession weigh out the ups and downs to make your decision that much easier!
Good luck! 
TIPS:
BE OPEN MINDED: be willing to explore, your perfect job might be something completely unexpected
FOLLOW YOUR PASSION: you would enjoy something more if you're good at it
TALK TO CAREER SERVICES: make the most of your university's career service, after all they are the professionals
START EARLY: the earlier you start to think about this, the more time you have to gain information
BE INDEPENDENT: don't jump on somebody else's bandwagon, follow a career path that YOU want to do and don't let anybody influence that